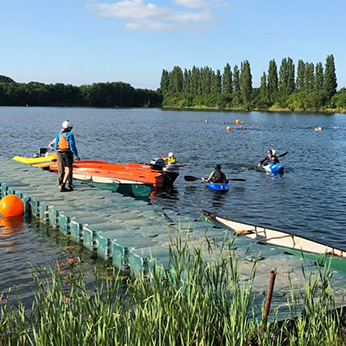 Monday and Wednesday Hatfield Training
Weekly training at the Hatfield Water Park in Hatfield, Doncaster.
This is one of the best venues for beginner paddlers, especially during the summer months.
Paddlers can do slalom training or playboating on the lake.
The coaches available at Hatfield include Esther Mathews and other trained coaches.
Kit (such as boats, paddles, and outdoor equipment) can be rented for Hatfield.
Weekly training for playboating, polo and slalom at the Hatfield Water Park near Doncaster.
Coaching

Starts 5:30pm weekly

1 hour and 30 minutes

£9

£10

£11
Book now
First time paddling or haven't got your own kit? Don't worry, Green Star have that covered!
You can borrow everything from the Green Star Canoe Club including your paddle, buoyancy aid, helmet, wetsuit (such as shorts, tops), fleeces, decks, dry cags and shoes. You can also rent your boat for a small extra fee.
Please remember to bring your own swimsuit or swimming shorts with you for hygiene purposes.
"Wonderful club with highly dedicated coaches. Esther recognises and works with each individual's strengths."